Our framework can be integrated with any online service – reservation system, payment gateway, e-commerce – or with a database: Customer Relationship Management, Enterprise Resource Planning, Data Warehouse, and control the conversation from the external system.
That's why we delivered chatbots in many sectors: retail, banking, media and entertainment, utility, recruitment. Communication automation is the one in common.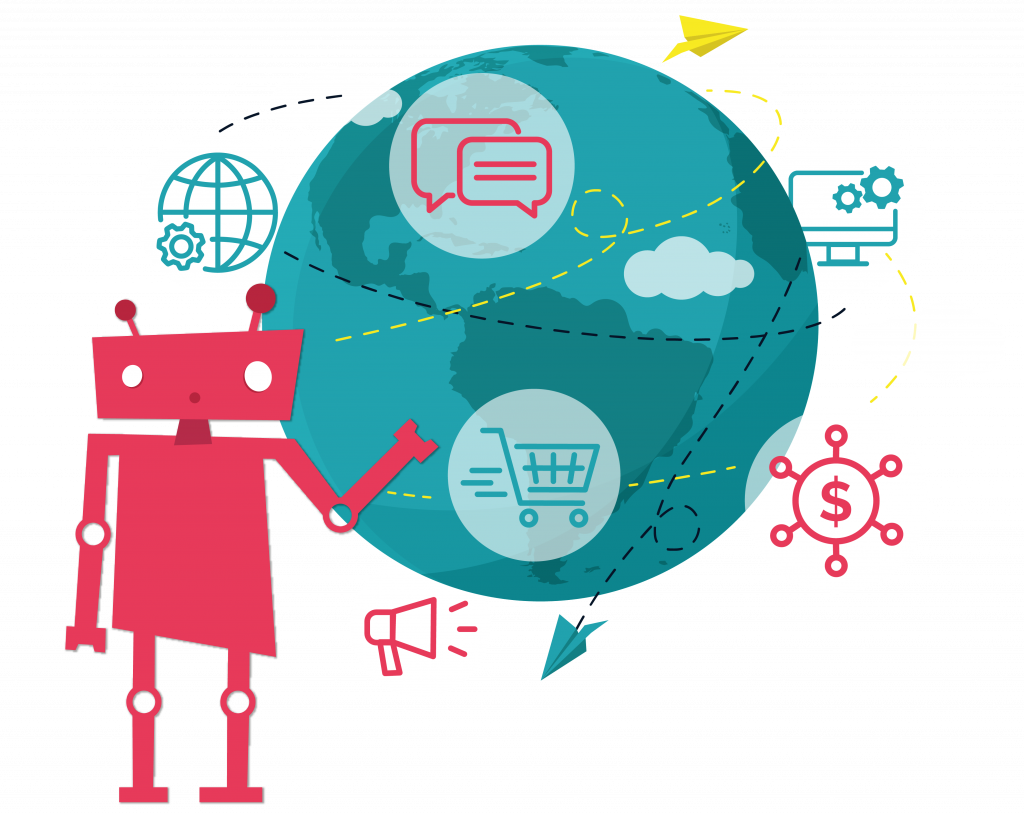 See our functions, choose what you
need and build your company's
perfect automated assistant!
Free text interactions (NLP)
With Natural Language Processing (NLP) the chatbot can understand what the user types in as a free-text question, so it can provide relevant answers.
Answering frequently asked questions. The user can not only access the answers through a pre-programmed menu and buttons: with the introduction of NLP, the bot can also extract questions from free text and give relevant answers – based on its knowledge base.
Push messages (for all users)
To those users who are already friends with the chatbot, we can send unique, text or file-based automated messages. The exact function of this feature depends on the different policies of each platform.
For the existing users, we can send push messages containing advertising content or notifications for re-engagement.
GDPR handling/ Unsubscribe
Every company in Europe has to comply with GDPR. Our chatbots have a built-in module for accepting GDPR and protecting personal information. The subscription feature is part of our framework, too: users can subscribe/unsubscribe with a click of a button
Customer satisfaction measurement
Creating and evaluating a flow consisting usually of four questions that measure the Net Promoter Score.
With this feature, the user doesn't have to exit the window while using the chatbot because the webview displays the webpage within the app. A forward-looking feature for customer experience.
The QR reader is a useful feature, and since the camera in your phone can read QR codes, it is simple to redirect the user to the chatbot or from the chatbot to a specific landing page.
One of our best features that make chatbot users feel they are in a real conversation. The chatbot recognizes the topic, so it can answer multiple consecutive questions while keeping the context.
Depending on the business hours of your company, the robot may provide different answers. Useful if you have multiple offices or if the chatbot is a hub.
This allows the user to chat with a real person within the chatbot interface if the robot is unable to answer the question. The unique ticketing system helps you manage your Live Chat features.
After customer profiling, we can send 1 to 1 messages to answer fully personalized questions. A useful feature where the questions are similar but the answers differ from client to client.
PRM (Private reply manager)
A feature available on Facebook Messenger that automatically analyzes comments under posts, and if there's a relevant answer the chatbot responds in a private message to the commenter.
Our chatbots can be installed not only on messaging platforms and websites but also within a mobile app. We can create a stand-alone application, or we can integrate with an existing one.
A convenience feature that allows you to add a product or service to your favourites so you can recall it back with a click.
A location-based search feature that lets you see how far you are from a pub or from an ATM. The operation of this feature can be different on each platform.
Flow creation (with reporting and integration)
Creating a user flow to meet a specific goal or conversion based on our clients' needs.
The interface of some apps, e.g. Viber, allows custom design for chatbots, so the user interface can be customized according to the company's corporate identity. This feature is not available on all platforms.
Complete webshop integration, a complex feature that handles the entire process from product search through adding to shopping cart and checkout to shipping within the chatbot. Convenient and easy to use.
Product search feature that uses an API to list products or services from a database. It looks best using a carousel menu. Click on the result to access detailed information about the product or service.
Multiple language support
For many companies, it is a great feature to have a single knowledge base available in multiple languages. By simply tapping a button or even with a free text command, the user can select the language of the chatbot. We support more than 100 languages.
Game! Whatever you can imagine in a chatbot, we will do it, whether it is a button, choice, free-speech quiz, or flow game - we are happy to do every component of it from the basic idea and scriptwriting to final execution.
Our loyalty program allows you to give your users personalized discounts after pre-defined interactions.
Posting and managing coupons is an important and frequent task. With the chatbot, they can be sent and handled easily. Many of our robots run this feature with great success
Making appointments can be done automatically with a chatbot.
If we have the user's email address, the chatbot can even send a private email to the user.
System integration is one of our most complex and important features. We can connect to almost any system with APIs.